川井憲次さんの「イップ・マン」に英語の歌詞をつけてみました。英語歌詞 cabin & Jon。 ボーカルはカナダのクロスオーバー歌手ナイェリ・アブレゴ。
I added English lyrics to "Ip Man" by Kenji Kawai. The English lyrics created cabin & Jon was sung by Canadian crossover singer Nyeri Abrego.
我為川井憲次的《葉問》添加了英文歌詞。創作的英文歌詞cabinet & Jon是由加拿大跨界歌手Nyeri Abrego演唱的。
英語版「イップ・マン」vo. ナイェリ・アブレゴ "IP Man Song" (English version) Vocal Nayeli Abrego 英文《葉問》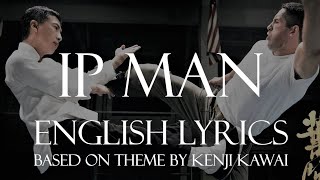 英語版「イップ・マン」の歌詞 Lyrics of "Ip Man Song"  《葉問》歌詞的英文版本
IP Man Song (English version)

Verse 1
"Can you feel the spring
In the hinting scent of plums
that are coming into bloom?"

"Can you feel the force
When I strike a Wing Chun pose
That is gentle as the breeze?"

Light as swallow's flight
You will work on your taolu
Casting all your fears aside

Go beyond the forms
Become one with nature's flow
In the calmness of your mind

No enemy for you
Leave egos you knew
Concentrate, be true
To the blossoms opening, within

 

Verse 2
You can see the spring
In the smiling of your love,
Your dearest, only one

You shall give yourself
For to guard this precious love
Is the meaning for your life

Shifu master, now awake
Your time has come to show
Just who you really are

Setting yourself free
Joining nature as your force
Ruling boundless energy


Everything is one
Everything will flow

Concentrate your mind
On the rising storm within you

Go fly 'cross the sky
Be the thunder in the spring
Pursuing the Wing Chun way ...
関連動画 Related Articles 相關視頻
---------------
tokyocabin