日本語版は一つ前の記事です。
Every Wednesday is "Wan-nyan Wednesday"! We are going to deliver hot, cute stories of little (or large, sometimes) animals. The the first adorable one up to bat is Popeye the Foodie from LA.
 CONTENTS:
Dog At Best Restaurants in LA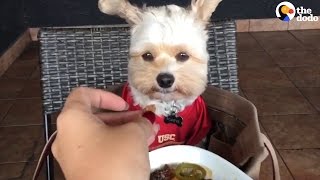 Dog With Rough Past Eats At All The Best Restaurants Now - YouTube
The Dodo
2017/01/11  Published
His ears stand up with gusto, which is sooo cuuuute!
Popeye is a very popular dog with 36k instagram followers!
Every photo is fantastic. No wonder he is selling well.
Successful transition from stray dog to LA famous dog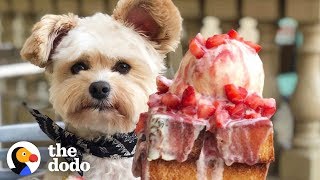 Stray Dog Becomes The Biggest Foodie In LA | The Dodo - YouTube
The Dodo
2019/02/26  Published
He was picked up by an lady in LA. She felt sorry for him when she found a few times the little dog wandering on the road. Popeye's photos she took while walking gathered attention and he became popular soon. This success story reminds you about the Street Cat Bob.
Since he was a stray dog, no one knows his breed. According to his owner, he may be a pomapoo (Pomeranian / Toy Poodle mix) or pom yorkie (Pomeranian / Yorkshire Terrier mix ). He is cute with long curly hair, but the after-cut handsome look is a knockout!
Easy. He lives on dog food.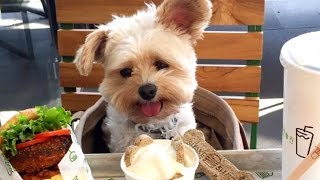 Rescue Foodie Dog Perfectly Poses for Drool-Worthy Snapshots - YouTube
Inside Edition
2016/11/11  Published
His pretty face looks foods delicious. However, he is just a model posing at the chair and eats dog food after shooting. Foods for humans are not good for the health of animals. Lucky you have a good owner, Popeye!
Look at his expressive ears!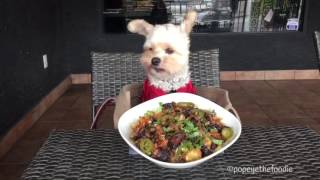 Popeye with Pork Belly Tater Tots - YouTube
Popeye the Foodie
2016/11/27 Published
His little ears swinging and cannot stop, especially when gets an interest in something. His standing left ear is characteristic, which makes him special for his owner.
An idiot left him on the road must weep in regret.
☆Business communication: Could you reproduce this ears with dignity of life by using your magnificent drawing ability?
---------------
tokyocabin