こちらは以下の記事の英語版です。
【速報】ショーン&ケイシー「エブリデイ」エイジャ・ブレイク(振付アレクサンダー・チュン)
(*pre-proofreading version)
Well, I'm now in the mood for a new choreography by Alexander Chung. Relax, that's not such a hard one!  On top of that, Sean Lew and Kaycee Rice dance it!
EVERYDAY - Elijah Blake Choreography by Alexander Chung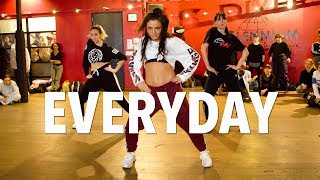 EVERYDAY - Elijah Blake | Choreography by Alexander Chung - YouTube
Alexander Chung
2019/02/26  Release
You can check lyrics here.
No Japanese traslation comes up yet. The core message is "I fight on everyday" and the repeatition of "everyday" resonates with me.
So fuck with the ones that fuck with you
They can never say I'm brand new

[Chorus]
It's everyday, everyday
Everyday, everyday, everyday
Everyday, everyday
Everyday, everyday
 Here's one of the words  Ichiro.
Carrying many burdens,
I piled up smallest things to achieve records EVERYDAY.
Challenge is hard but thrilling at the same time, which is so irresistible.
This feeling is the best part of the world of victory and defeat.

by イチロー
For some reasons, I am in a delicate situation on my job contract, but it doesn't matter much after all. I even told to my boss, "To be honest, I don't care at all. Hahaha!" and that's made her shocked. It is my true feelings, however. If I am not needed by this office, I can find somewhere else. That must be thrilling. At least I will get new friends there. Basically I can be super happy as long as I can work and earn a little money EVERYDAY. I know that I will find my new goals there and work to get them EVERYDAY, which makes me happy enough. More than that, I can be happy as long as I can watch funny movies on YouTube and read crazy articles on the Internet EVERYDAY. I can be so high since I can build my little blog EVERYDAY with hearty-cheerful-clever-funny-geekish blogger friends in and out of this country! I feel healthy and strong with practicing Tai Chi, Wing Chun, weight training and dancing EVERYDAY. Cooking and baking EVERYDAY sweeten me and my partner, and borrowing amazing books at the library EVERYDAY excites me so much. If only I can buy a new desktop PC of mouse computer with humble EVERYDAY earnings via google adsense, I have nothing else to add.
(After getting a nice desktop, I will upgrade my content for you, and you're gonna love it!)
I thought I'm going talk about choreography, did I?!
Is this a kind of lock dance? Focused on arm movements, it doesn't contain any acrobatic steps. Of course there are some fast steps, but all in all you can dance this at home. Since the music goes at a slow pace, the dance is not such a quick one. I mean, you can at least BELIEVE that you are dancing like the dancers on the screen. This is one of the virtues of Mr. Chung's choreography, which is so kind to a beginner dancer like me.
No no! If you can dance sharply like Sean and Kaycee, please go ahead!
Sean Lew and Kaycee Rice - EVERYDAY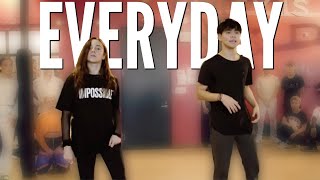 Sean Lew and Kaycee Rice - EVERYDAY - Elijah Blake | Choreography by Alexander Chung - YouTube
ANDREA H DANCE
2019/02/26  Published
These two are in a world of another dimension…
life is spectacular
人生って驚き
Thank you very much for your reading.
---------------
tokyocabin