日本語版は一つ前の記事です。
Today Kyle Hanagami released his new choreography for "Bad Guy" of Billie Eilish! Let's dance like a bad guy, duh!
CONTENTS:
Bad Guy by Billie Eilish, The cutting-edge singer in 2019
Yes, this is the song. The music video is amazing, or maybe somewhat shocking for some people. Billie's lackadaisical dance, if it can be called a "dance" and comic-like "
duh!
" The cynically "
masculine
" shot in the last scene is killing!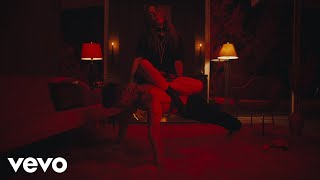 Billie Eilish - bad guy - YouTube
Billie Eilish
2019/03/29  Published
This is so good handsome work. The melody is chill. I am fond of this kind of lyrics which are beyond the man and woman. Her BAD words are out to the safety zone. That kills me. You can check the lyrics here.
This is the song created by Billie Eilish, a 17-year-old U.S. singer. Compared to this Billie, Tyler Swift, an ex-high-spirited early millennial generation singer, sounds like very "innocent." Messages she sang in her music videos, so-called celebrity-life visuals made of tons of production budget, are surprisingly conservative, traditional "feminine" ones, such as "girlish delicate sentiments (Delicate)," "revenge for a man (Look What You Made Me Do)," etc. (Please understand I have no intention to attack Tyler here. That's not the point.) Wow. I really like the aggressiveness of Billie. The article below is an analysis of her success.
Fashion-conscious Billie is particular about her own style of bing against the current trend. Her extremely expressive fashion reflects what she likes: Japanese animation, street, 90's rave culture, etc.
Does this suggests she likes so-called "uncool is cool"school, City Pop-like thing, which are favorite of tokyocabin? Like the following guys?
No, Billie is more close to "really cool" style. Remember she is working with Takashi Murakami, a Japanese artist who designed UITTON purses. Consequently, a bit of Superorganism way?
Collaboration Work with Takashi Murakami-you should see me in a crown
Billie Eilish - you should see me in a crown (official video by Takashi Murakami) - Teaser - YouTube
Billie Eilish
2019/03/18  Published
You can understand Billie's love for horror by watching this animation. Her character with insolent expression is very cute. This is a tune which allure you to make a good AMV works. I really recommend Japanese AMV creators to make a good Japanese animation AMV with this song. They can enjoy more greater views with American hit songs than Japanese one.
Oh, I have been talking about Billie for such a long time because she is so interesting, but, this article is dedicated to the breaking news of Kyle Hanagami's new choreography released today!
Wanna be a "Bad Guy" by Dancing Hanagami Choreography?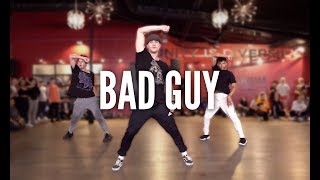 BILLIE EILISH - Bad Guy | Kyle Hanagami Choreography - YouTube
DAX -Space Shower Digital Archives X-
2016/01/13  Published
Art Level B/ Difficulty Level B/ Fitness Level B/Mascurine Level A
This is a kind of lock dance-style choreography. You can dance it as an exercise without worrying about making sounds. Since it is not hard as making you short of breath, however, th fitness level is B. This is a song of "bad guy"(-like girl), so basically it is very mascurine work, as for Hanagami's version at least. This includes lots of martial artistic moves, which is a killing point for me. I should warn you. You'd better not to fight with a guy who can dance this well. That's a veeeerrry bad guy, I bet.
Floris Bosveld, a guy who is very active in Hanagami studio these days, dance in the first group (see the guy in the image above). He is a guy I personally call "Major" and "the guy with who I wants to go to ramen shop "Fukumen Tomo" in Jinboh-cho most." Group 4 Emiliano Jimenez is another man to be focused. He is a sexy-hunky dancer, though he sometimes dance in a little bit too feminine way (so he is not my type).  Congratulations Major! You remains the only guy who has a right to be able to sit down next to me at the ramen counter of "Fukumen Tomo."
Tks, duh! 
---------------
tokyocabin