日本語版は一つ前の記事です!
Unlike "I'll earn a hundred of million yen in seconds," words by Tsubada Yozawa (an ex-Neo Hills super-rich), Tavito Nanao says "I'll change your whole life in seconds." (We are very sorry but we are out of Perrier bottles.) 
CONTENTS:
The Preceding Story
I was handed WirelessGate Wi-Fi+WiMAX 2+ au 3-year smartphone discount (4,730 yen/month, data limitless) by Takayuki Yamada (pseudonym) who has a small patch of territory in an electronics retail store in Shinjuku. However, within a few month, I was at the end of my patience with its unbelievably low communication speed. Coincidently, I encountered Shibarinasi WiFi (3,300 yen/month, data limitless. 2,800 yen from 13th month. No penalty), which made me happy with its super high speed.
"Fading Echo," TV Drama "Takayuki Yamada (Pseudonym)" Theme Song (Assumption)
Today, I am going to feature Tavito Nanao, whose song was selected as the TV drama (assumption) based on the above story!!
Fading Echo 七尾旅人(Tavito Nanao)
Fading Echo CRO MAGNON feat 七尾旅人 - YouTube
bull5hit2011
2012/01/19  Published
Togireta kono echo...
Moshimo anata ga koko wo hanarete
Bokurano melody wo wasurete shimattala

 Fading Echo...
If you leave here and
forget our melody
The introduction part with vibraphone is already killing. To be honest, the chord progression is the same as the pattern of familiar urban songs with a sense of so-called city pop, not a very new to me. However, sound effects of echo, etc. in the latter part and freshness with new interpretation is very agreeable. While based on old, familiar sound, this is a sweet, sophisticated song with some twists.
Yaketsuku youna nagasugiru yoru, Oh Oh

Such a sizzling, hot, too-long night, Oh Oh
What? Too long night? I can't, because I have already experienced "Going through this night, where shall we go?" with Daichi Miura. It is OK for Lucky Kilimanjaro who can go through the night of "his own." What does exactly "such a sizzling, hot, too-long night" mean, anyway? You mean it? Huh?
Konya kiseki wo shinjitemo
Dohshitemo mienai mienai mienai

No matter how hard I try to believe a miracle tonight
I can't see it, can't see it, can't see it
What a darkness! "I can't see it" x 3.  A Love Torture??
These lyrics made a significant contrast with those of Daich Miura, who has undisguised cheefulness. I'm not sure but what kind of a woman (or man) who trys to break away with Tavito, a guy who can sing a song like this?? Of course I bet Tavito Nanao will get the next lover in seconds.
I was impressed with the chilling atmosphere of this song and assumed it as the theme song for my TV drama on my own. There is more dangerous song, however...
"Circus Night"--Such A Dangerous Night I Need to Leap with Him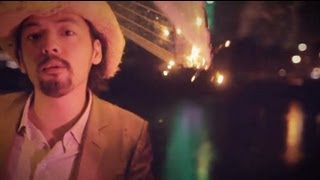 七尾旅人 "サーカスナイト" (Official Music Video) - YouTube
Felicity official
2012/07/23 に公開
Who? Yamada Takayuki (real)? Does he looks like the actor maybe because I am still under the shadow of Takayuki Yamada (pseudonym)? Come on, calm myself. This is just "a video of a man who has a cheep, plastic umbrella with some Christmas illumination"!
Oh baby, konya no kisu de
issho bun no koto kaete shimaitai yo
Koko wa rakuen jyanai dakedo
egakeru kagirino yume no naka

Oh baby, with today's kiss
I'd like to change our whole life
Here is not a paradise but
we are in a dream as much as we can imagine 
This is really...I need to be rational. This is, no doubt, a TRAP, and tokyocabin is a blog where you can observe how easily I caught in beautiful traps created by wizards living in the woods of YouTube. Well, this is too bad. These lyrics are extremely seductive. The man who try to practice hypnotism firstly proclaims that "I am going to mesmerize you." Yes, the man with an illuminated umbrella just in front of your! In general, the person who says "I will not be mesmerized by him!" tends to
(1) become unable to get out of a chair
(2) become unable to feel like getting out of a chair, or,
(3) become really feel like pretending to be unable to get out of a chair
BECAUSE SHE (OR HE) WANTS TO BELIEVE IN THE SPELL OF THE UMBRELLA MAN.
This is a song of a dream and awakening. A song of a formidable wizard who is watching a "awakening dream."
Meno mae de maho ga tokete yuku

The spell is going to broken in front of us
He keeps watching the love magic turn into bubbles. What a man. It is very difficult to do. Ordinary person (like me) gets just crazy about love, that's all. That said, the best timing to eat a cup of vanilla Haagen-dazs is when the edge part starts melting. Tavito is singing the exactly rim of the yellow-white ice cream under the little red-brown plastic lid. This is a mountebankery, no, miraculous love song on a "tight-lope."
Donnani sore ga esoragoto demo
tobu shika nai yoru

Although it looks like just a fantasy
this night, we have no choice but leap
"This night, we have no chioice but leap." This phrase reminds me of "You should ABSOLUTELY choose 3-year commitment!," the words of Takayuki Yamada (pseudonym). Oh, please don't force me to make an instant decision. I just want to be freed (shibarinashi) from a communication contract and love!
Tavito Nanao Who?
Firstly, please call him "Tavito Nanao," not "Tabibito (a traveler in Japanese)."
The following is quoted from his official website:
Tavito Nanao
A singer-songwriter born in 1979. After his debut in 1998, he released "900fantasia, "Little Melody," "Solder A" and other works. "Rollin' Rollin" and "Ciercus Night" became smash hits. His unique live performance is very memorable. He continues having great impact on Japanese alternative scene with his peculiar performances. An example is "Hyakunin Kumite (Fights with a hundred persons), where he did improvising with various performers without stopping. More than that, he pursuing his art of singing through his own approaches, such as a project by vocalists consists of beatboxers, a choir, animals and insects. By using DIYSTARS, a message delivery system, (Nanao has been involved in its development), he launched "DIY HEARTS The Great East Japan Earthquake Charity Project" as well as "DIY WORDS," an initiative to open up a distribution routes through works from deprived areas and disputed areas around the world.
You may have an impression that he may be a social activist at an NPO. However, if you read, for example, the article below, he will understand that Tavito is "a person of exceptional talent" and maybe a "genius." (I won't to assert that he is a genius yet.)
<Tavito Nanao's turbulent life until he goes over music lives> meetia.net
In old times, such "genius type" people used to indulge themselves with absinth like Arthur Rimbaud (not "Abusan" created by Shinji Mizushima) or disappear in the Tamagawa River like Osamu Dazai (not "Tama-chan," a seal) and die young. Today, I hope Tavito Nanao continues his art activities for a long time by paying attention to his health. Anyway, this is a person's words who got to know him only a three days ago... 
Debut Album "Omoide Overdrive"
In 1998, Nanao Tavio made his major debut from Sony Music, produced by Ginji Ito. He was only 18. I'll introduce two songs from his first album.
"Omoide! Omoide!! (Memories! Memories!!)"
You can listen to part of the song at the site below.
<Nanao Tavito; Sony Music Offical Site>
"Hachi gatsu (August)" at Live
The live performance uploaded on YouTube is so good.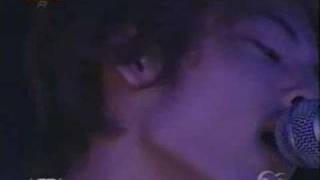 jaffajaffy
2007/03/14  Published
2000.08.20 Taiyo Sawada Presents at Shinjuku LOFT 
How was that? His performance is somewhat rough and even broken in parts, which, however, emphasize his sensitivity and stir audiences' hearts. This fact is convincing enough to believe he is "a kind of genius."
Then, for many reasons, he moved from "major to an indie label" i.e. left Sony when he was 20. His talents might extend far beyond a traditional label. This seems to be a lucky for him as a result because he has been created a series of "legendary" unique activities since then. At the site below, you can check his recent "activities" which are sometimes out of the scope of music.
I'll pick up some of his attractive "activities"!
"Rollin' Rollin'" by Tavito Nanao + Yoshihide Otomo + Ryuichi Sakamoto + U-zhaan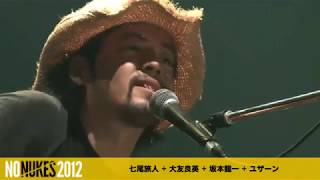 七尾旅人+大友良英+坂本龍一+ユザーン - Rollin' Rollin' - YouTube
no name
2017/10/14 Published
Tavito Nanao
Yoshihide Otomo
Ryuichi Sakamoto
U-zhaan  
What a special team! That' truly amazing. Impressed with the power or sense to realize such as unusual session. This is pure non-genre-never-again-super-cross-boundary-performance. Yes, no other word but "performance." This video is enough to explain the free, flexible form of Tavito Nanao's art.
"Solder A," Who Will be the First War Dead among the Self-Defense Forces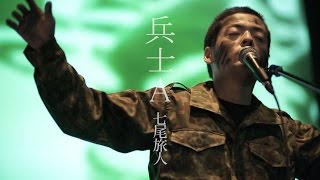 七尾旅人『兵士A』予告編 / TAVITO NANAO『Soldier A』trailer - YouTube
Felicity official
2016/06/13 Published
This is a great example of his diverse activities. He plays the "Solder A" who will be the first war dead mong the Self-Defense Forces. By this video, he impressed me not as a traditional "singer" but as a performer who "can sing" and a "poet" who can play.
Concert for Dogs
Caution: No joke. This was a serious live concert for dogs. Humans were just following dogs. Please enjoy the video, bearing this in mind.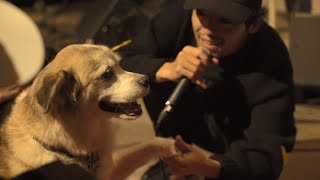 七尾旅人 "犬たちのためのコンサート" / TAVITO NANAO "Concert for Dogs" 2018/12/11 - YouTube
felicity official
2019/01/11 Published
When the label company offered me, "Why don't you hold a free-charge event with streaming delivery the day before the album launch?," I declined it, saying, "Since I feel so much for this album, I'd like to stay home quietly sitting with my feet tucked underneath me." In the end, however, I thought "I really want to do the stage if dogs are audiences."
…

If we deliver streaming of the space with dogs from this place full of memories, maybe the audience dogs can be watched by his friends (dogs) in far places. This idea makes me excited.
For me, this is purely for an event for dog. So I was surprised a little when the label said "humans should be allowed to enter the venue," but I was able to understand what they said. As a result, I left the arrangement of the balance of the audience to my reliable staff.


Underlined by tokyocabin
The above comment is so "pro-dogs" that it made me baffled with smile and I believe I'm not the only one who felt this way. The video is quite a long one. What impressed me most is the last song starting at 01:32:48. Dogs really loved the song! (That's true. Dogs reply to him "bow-wow!")
Tomodachi dekinai, tomodachi iranai
Ouchi mo gakkou mo iranai
...Ari no mama ni wagamama ni 
boku wa inu dake wo kizutukenai

I don't have a friend, I don't need a friend
I don't need a home nor a school
...Just as I am, being selfish, I will never hurt dogs
He can sing extremely delicately, but hsi soft voice wraps a very sharp knife with a cynical, anarchistic perspective. Oh, please, don't jerk me off, Tavito, since that's too sweet.
Now Retink; Tavito Nanao Who? 
Who? What kind of person he is?? As much as listening to his songs, we get confused by facing his diverse dimensions, each of which is uniquely attractive. He is a love-wizard, maybe a genius, a gentle solder, a singer for dogs, etc. We try, but "we cannot see him, cannot see him, cannot see him" completely, and, so, we can't take our eyes off him.
---------------
tokyocabin