日本語版は下記リンクをクリック!
【速報】ブルーノ VS カーディBの恋対決?!「プリーズ・ミー」
<Golden Couple Is Back!>
Kansai Denki Hoan Kyokai (Kansai Electrical Safety Inspection Association) sounds alluring for me… but I was too late to pick it up as a breaking news because I have been muddle about an English article, on top of that, the company can be approached from several angles, which may be a long article. OK, I decided to take "Plan B" i.e. Cardi B!
Cardi B & Bruno Mars - Please Me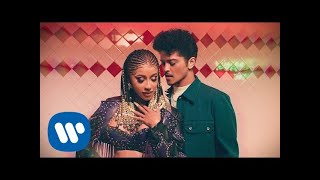 Cardi B & Bruno Mars - Please Me (Official Video) - YouTube
Cardi B
2019/03/01 Published
The video has already earned more than 40 million views only in five days! The super-popular couple's new single can be a huge hit following the 2018 mega hit "Finesse"? !
As always, Bruno's vocal is so sweeeet and make you feel in heaven. Yes, that's his style and you always get content only with his voice. The melody itself sounds nostalgic and a little bit familiar...did I hear that before?? ...and, anyway, I listen to it over and over. Some say that such a Bruno's hit method is unfair, but I like his songs. His songs are entertainment. His number, which are wearing the 80's color can be said CITY POP marketing or Future Funk Marketing. (Not Maltese Marketing).
Such a killingly soft voice of Bruno, however, is sometimes missing something. That's when Cardi B really comes into play. She is like kaki-pea (spicy taste),  kaki-no-tane rice crackers and peanuts. You can be basically satisfied with rich butter peanuts, Bruno, but...if you get a little bit tired of keep eating them, you can throw pungent Cardi B into your mouth. Here you get the mugen combo (infinite combo)!

I learned this term "infinite combo" at, as always, the blog of Otoshoku-P, who has an encyclopedic knowledge. Let me confirm with him if my use of this word is appropriate...OK, his comes his answer:
On "infinite combo," I will give this advice based on my personal views.  According to Yugioh, the concept of "infinite combo" is "Zutto ore no turn!! or My turn forever!!" (Berserker Soul), which frightens Insector Haga so badly.  "Infinite combo" will turn to be Bishamon and just a hamewaza (a kind of chaet) in the end. I mean, it is the thought of emptiness.

"Zutto ore no turn!! " (Berserker Soul)

My Favorite Yu-Gi-Oh! Moment!: Yami Yugi goes Berserker Mode - YouTube
Appreciate your never-changing "empty" answer, which is just as expected. 
Honestly to say, I love Bruno 100 times more than Cardi B (, yes, just as you?!) He is such a cute guy with boyish husky voice and looks. On the other hand, Cardi B irritates me. I mean me and most of you. That is her selling point as a popular female rapper.
If you place a perfect girl, yes, like his present girlfriend Jessica Caban, who is very beautiful and good-natured, apparently at least, next to Bruno, the movie can look so boring. In other words, she fits too well and that's exactly the factor that turns the picture uninteresting. Cardi B, is the person who can make it attractive. That's the point. Moreover, Cardi is too interesting and funny that you cannot envy her. First of all, you get nothing by envying Jessica, don't ya?
Jessica Caban is the breath-taking beauty who is aiming at Bruno from the back. She is 7 years older than Bruno. (She is something!)
This parody movie is pretty funny. (Click the picture to play)
Bruno Mars' Whatta Man - YouTube
Funny Or Die
2012/10/03  Published
For "Versace On the Floor," another beauty Zendaya appears on the screen,  but she is also too good-looking to be fun!
Why does it get more boring with prettier women?
In that sense, Cardi B is killing!  She can energize the screen. (Sorry but the aforementioned two  cutesters make the move just a fashion magazine.) Cardi has a variety of expressions.  Her mocking tone of voice is very provocative. Yes, she shows a spirit of service, being sexually attractive or, rather, erotic. Meanwhile, she is popular among girls. Over-cute? No way! She says what she wants . She does not obey your thought. That's Cardi B. A impressively interesting character.
Bruno playing the moment of "falling" in love with Cardi B. Yes, serious…(lol)
This nonchalant face means real inteligent…! (I am serious.)
Cardi B is not a woman who just takes off her Versace suites on the floor. In this video, Bruno needs to chase her by car at the end.  
Bruno is absolutely charmed by Cardi B. (Aw, shucks.)
In the love-battle PV, Cardi B knocks off Bruno! (The video has been released via Cardi B official channel, for your information)
Oh Cardi, if I found her in my new class in April, I would not make friend with her until around May. I would think, "Who does she think she is? I hate her loud voice as well as her too substantial tits and ass. She irritates me badly!" I would, however, get along with her after the summer vacation and start to "tease" pretty boys (who pretends to be shy) like Bruno for a joke, licking a lollipop in a girl group.  I feel that way.
<Too straight lyrics>
Please me, baby

Turn around and just tease me, baby

You know what I want and what I need, baby

プリーズ・ミー、ベイベ

振り返ってティーズ・ミ〜、ベイベ
Ah, these lyrics are so embarrassing since it is too straightforward. Even so, they sound sweet to me when they are sung by Bruno.I hate to admit it, but yeah, they do.
And this is Cardi B's reaction:
Let me hear you say

あんだって? 声ちいせーぞ! あんたマジ? ほなもう一回? あい〜♡(You can choose which on you like best.)
Well, well, well. Quite interesting. In tandem with Cardi B, the straightforwardness of the song become attractive.    
Noteworthy is the comedy-like atmosphere of these two. This couple has far grewn compared to the time of "Finesse"!  
<Un-hip choreography> 
◯ Cons
As for the dance, I will not give much comments. I mean, I was shocked with girls' so-called hip-swing dance in line. That's too vulgar. The school board  will get angry about this.
This is not the very first time I clarify my attitude to this hip-swing dance, which goes in fashion in the U.S. I don't like it at all. I could not stand if Kaycee Rice does this (and she will not). Never hope to see Sean Lew doing this (and he will never never do this). However, this is Cardi B anyway...
◯ Pros
On the other hand, my favorite dancing part in the video is where men stick out both arms alternately overhead. This dancing phrase is famous for movie "Saturday Night Fever." When a man do this pose, "天上天下唯我独尊:Tenjo tenga yuigadokuson ("I alone am the world honored one" said newborn Buddha)," he looks so foolish, funny and adorable.
Examples for "Tenjo tenga yuigadokuson" dances:
"Choh hatsu tekina ya tsu da!" in song "Gokigen daze!" by DA PUMP (former team)
DA PUMP ごきげんだぜっ!〜Nothing But Something〜 【PV】 - YouTube
"Dancing in the night  On this dance floor
Excuse me for eliminating anyone without rhythm"
崎山つばさ / 「ダンシング☆サムライ」MUSIC VIDEO - YouTube
<Conclusion>
I pointed out lots n this article. Anyway, if I forget EVERYTHING about the music video and just listen to the song, it is a very romantic, smooth and mellow tune. I love this one far more than " Versace On the Floor."
Thank you for your reading to the end.
Related article:
---------------
tokyocabin