日本語版は一つ前の記事です。
Yes, I am going to finish a series of articles on Tavito Nanao (and Yakenohara). Let me talk about him one more night, "Konya Dake." That's really killing. "Niji" by Denki Groove too.
 CONTENTS:
Konya Dake - Devilman Crybaby OST (Tavito Nanao + Takkyu Ishino)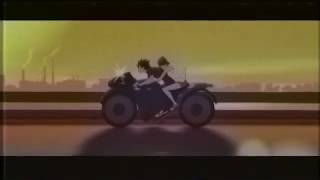 Konya Dake - Devilman Crybaby OST [with English and Spanish lyrics] - YouTube
Noctixx.
2018/01/15  Published
Through this collaboration, you can understand the awesome power of Tavito Nanao who can ride the groove of maestro Takkyu Ishino (Denki Groove).What we should be surprised about is the fact that his singing perfectly matches with electric arrangement despite (or due to?) his extremely humanic, acoustic vocal style. He is a real human who can ride out the machine.
Denki Groove will make the theme song of "DEVILMAN crybaby," an animation which is to be exclusively broadcasted on Netflix from January 5, 2018.
Denki Groove will offer a new song titled "MAN HUMAN" as the theme song for the animation program. As the special ending song for the 9th story, original song "Konya Dake" by "Takkyu to Tavito," a unit of Takkyu Ishino and Tavito Nanao, will be used.
 "Konya Dake" was used for the sweet story (the 9th) of the program. However, the last part of the program contains an extremely cruel scene (just as its original manga story), which was very controversial. 
"Niji" (Denki Groove) by Tavito Nanao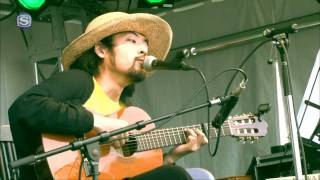 七尾旅人 - 虹 @ KAIKOO POPWAVE FESTIVAL'10 - YouTube
DAX -Space Shower Digital Archives X-
2011/09/07 Published
"Niji" by Nanao is excessing the level of so-called "cover." His shouts starting from 03:00 is just amazing. I was charmed by his singing, but at the same time I'm starting to fear him, (aren't you?). Oh, Nanao, I am afraid of you...
"Circus Night" 2015 Ringo Ongakusai 2015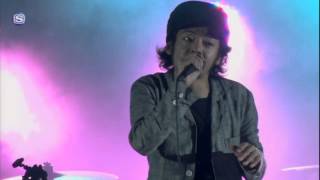 七尾旅人 - サーカスナイト @ りんご音楽祭2015 - YouTube
DAX -Space Shower Digital Archives X-
2016/01/13  Published
Handle with Care. This song is a dangerous drug. Nanao Tavito is a man who can easily enchant you without a help of "the illuminated vinyl umbrella." This time, he started shout, carried by a conservative mosh or lift, from 05:00. I wonder why his yelling of "Ringo Ongakusai 2015 !!" sounds so sexy.
Nanao Sings "Anpanman March" 
七尾旅人 リハでアンパンマンのマーチを歌う 東京蚤の市 - YouTube
ゆっとりチャンネル
2018/11/11  Published
After a couple of amazing performance, I'd like to take a break. So, I'm in a mood of Anpanman. Now I started to understand the value of Yakenohara. If you drink Nanao straight, you'll get drank right away. If you try him with Yakenohara, you can enjoy their combination in a relaxin' way.
Tavito Nanao x Yakenohara  "Rolin' Rollin'" @Hyakunin Kumite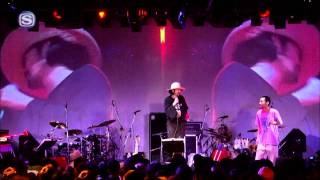 七尾旅人 × やけのはら @ 百人組手 vol.2 - YouTube
DAX -Space Shower Digital Archives X-
2011/11/04  Published
Congratulations, Yakenohara! I can do Rollin' Rolling with you now at last? Well, what? ...Oh, OK. I see. No, that's OK. No need. I don't care at all. Yes, I can get on the subway. Then, bye-bye. See you!
Yakenohara "Chikatetsu ni hakobarete♪ (We are carried by the subway)" 
Nanao "So! Mawari tsuzukeru yo! (Yes! You keep rollin' rollin'!)"
---------------
tokyocabin